Here at MANCUB HQ, the main New Year's resolution has been to 'spend more time with your Cub'. We couldn't think of a more important commitment to make for 2020 – the more time spent with them, the better! In fact, it could even make you famous. These 5 dads found themselves headline news through simple acts of good parenting that went viral.
1. Jack & Tim  
Singing duo Tim Goodacre and his son Jack left everyone in tears and wowed Simon Cowell when they won his Golden Buzzer in the 2018 series of Britian's Got Talent. Both have had previous success independently with their music, Tim touring with other singers and Jack on The Voice Kids UK, but neither individual venture mounted to the enormous success they had performing together. There's just something about their father and son duo act that had the edge. Simon Cowel even said they reminded him of himself and his son Eric. We loved them so much that we invited them to perform at our launch party!
(Instagram @jackandtimofficial)
2. Stanley Freeland & Josiah
This dancing father and son became an online sensation with their hilarious in-sync routines. Stanley Freeland, 25, and son Josiah, 4, started working on their moves a few years ago and now regularly share videos of them together online. It's not just their routines that match, but their outfits as well. Like us here at MANCUB, Stanley says he hopes to inspire other dads to bond with their sons in fun ways. We were proud when they rustled up a special routine for us wearing the
matching MANCUB T-shirts in Charcoal
(Instagram @father_like_sonet2404)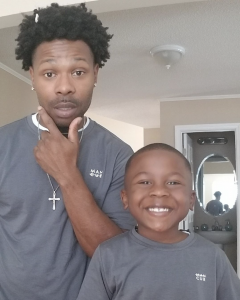 3. DJ Pryor & Kingston 
Comedian DJ Pryor and 19-month-old son Kingston captured our eye while casually "bantering" on their sofa in a now viral video. If you're not one of the 100million people that have viewed their chit chat, check it out below. When asked about the popularity of his video, Pryor said 'you rarely see a father connecting with his children – and people connect with that.'
4. Donte Palmer & Liam
When Donte Palmer headed to a bathroom to change his son's nappy, he didn't realise he was about to start a global movement #squatforchange. He posted a picture of himself on Instagram (@3boys_1goal) having to squat to change his baby in the absence of changing facilities in the men's toilets, and it highlighted a really important issue. The message went viral overnight with the support of millions of other hands-on modern dads! Pampers even picked up on the issue and launched a campaign headed up by John Legend to instal 5000 changing units in bathrooms across the US. Let's hope something similar comes to the UK soon.
(Instagram @3boys_1goal)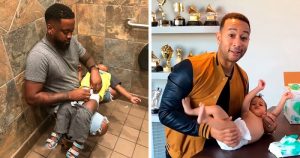 5. Rolland & Mackenzi
Rolland "Hekili" Holland, aka "Cheer Dad," high-kicked his way into stardom after enthusiastically performing his daughter, Mackenzi's, cheerleading routine from the stands during a school football game. Another parent captured the moment and posted it on Facebook; within a week, it received more than 3.7 million views! We wonder how many hours they spent practicing together to make sure they both got it just right on the night?
This guy right here needs to go viral. By far CHEER DAD OF THE YEAR!!!!!! This dude rocks!!!! GO YORK FALCONS!!!! #cheerdad #countyneededthis #tabbstrong

Posted by Scott Willard on Friday, 1 November 2019
We love it when good dads go viral. Do you and your Cub have a bond or talent the world should know about? Send us your photos and videos and little about why you guys should be famous to [email protected].
MANCUB Team