As the home of matching clothing for MAN & CUB, we strive to deliver the best of quality and style for guys who want to match up and look sharp.
Following the huge success of our launch and holiday collections, we are now set to partner with other unique, and exclusive brands that offer quality matching products to complement our range. These brands have been handpicked and are MANCUB approved.
We're really excited the announce the first…
BODA SKINS – Kings of Leather.
A fellow Mancunian brand on a quest to make the best leather jackets in the world, and we think they've done a pretty good job. Hand crafted in artisan mills, their jackets are timeless, irreplaceably stylish, and fit like a second skin. Boda make jackets for legendary individuals who value quality and integrity, without compromise – perfect for our MANCLUB members. That's right, matching leather jackets! If you've not already heard of Boda, you're in for a treat – check out their Instagram here.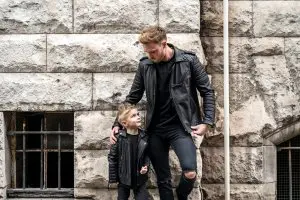 If it's good enough for Jonny Depp, the Kardashians and Justin Timberlake, it's good enough for us.
Available from 27th September
£589 for a MAN & CUB pair
Sizes Man – S/M/L/XL Cub – 6-13years